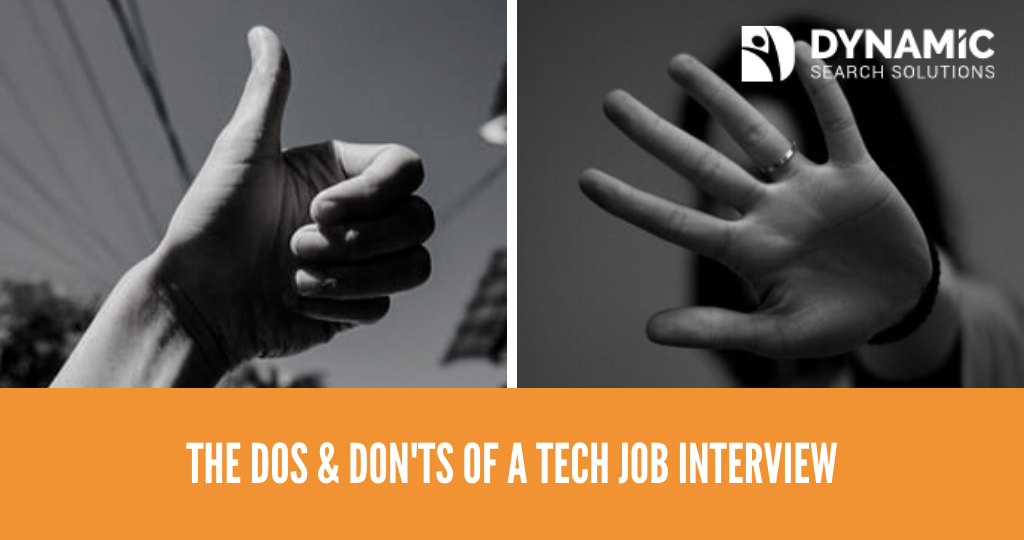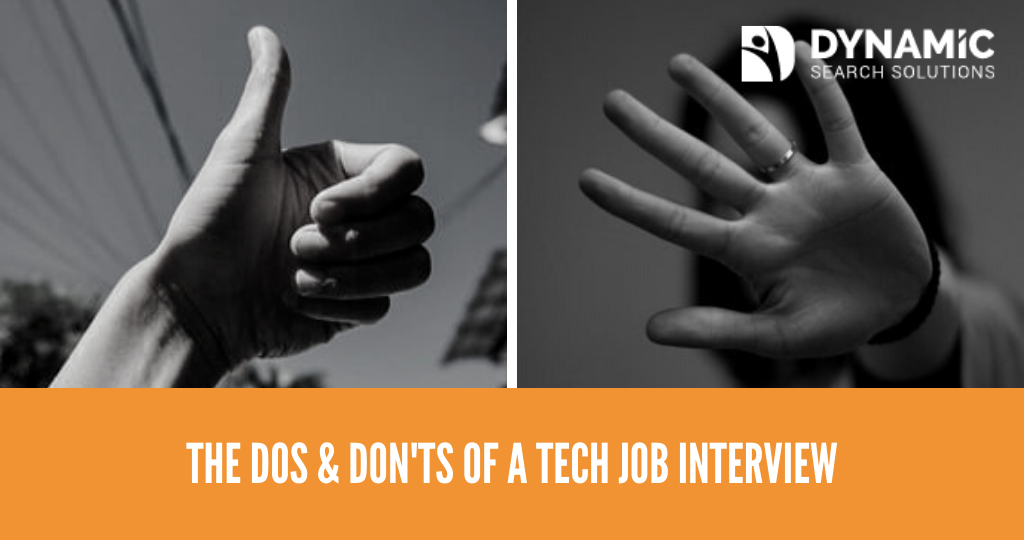 Jump to:
Sweaty palms and a last-minute rush to the toilet are normal before an interview – no matter how many you've attended throughout the course of your career.
In an IT or technical interview where it's important to portray your learned skills and hands-on experience, find time to brush up on interview etiquette to give yourself the strongest possible chance of success.
In this guide from Dynamic Search Solutions, we break the daunting interview process down into manageable chunks. Taking you from ways to prepare during the interview run up through to post interview tips, you can impress the hiring managers and secure your dream IT Job by nailing the interview.
Before the interview
This is your opportunity to prepare yourself for both expected and unexpected job interview questions. Before the interview – whether you have two days or two weeks to get ready – is your time to knuckle down with research, plan your outfit and work out how to ensure you arrive on time.
Do your homework
Grab your notepad and pen, your laptop or whatever tool you prefer to take notes with, and research/revise everything you need to know. At this stage, you should:
Research the company

and its company culture. You need to be able to demonstrate genuine interest and knowledge about the business. Research everything from their mission statement to their competitors and place in the market, and you'll impress the hiring manager when that

"why do you want to work for us?"

question pops up.

Research the hiring manager.

Find out who you'll be meeting with and look at their role in the business and their LinkedIn page. It's not stalking; it's finding out if you have mutual connections, interests or opinions that could make a great ice-breaker.

Read, re-read and triple-read the job description

. Get an in-depth understanding of what the job involves and find connections to your own experience and skills. In the IT industry, desired skills tend to be specific. Look for ways you can demonstrate how yours can be transferred – even if they're not an exact match.

Consider common interview questions

and jot down how you'd answer them. We'll get to them shortly if you're stuck.

Be prepared for the technical component.

IT and tech interviews have the added element of technical discussions. You'll need to be able to prove that you know your stuff, so brush up on the latest tech news and make notes about the technologies you're proficient in.
Plan your outfit
When competition is tough, the final decision might come down to what you wear. And while some offices allow casual dressing in the office, this doesn't apply to your interview and you should show up looking neat, presentable and professional.
So what should you wear to an IT job interview? To start, avoid flashy colours and wacky ties. A survey by Robert Half Technology asked 270 tech bosses which attire is the most appropriate for someone interviewing at their company and the majority said they'd prefer a formal business suit, followed by tailored separates. 
Plan your route
We've been in the IT recruitment industry for a while now and one thing we always tell candidates is to plan their route well in advance. Consult an online route planner and enter the time and date of your interview to account for traffic levels around that time.
We won't patronise you by stressing the importance of being on time for your job interview, just…be on time. 🙂 
During the interview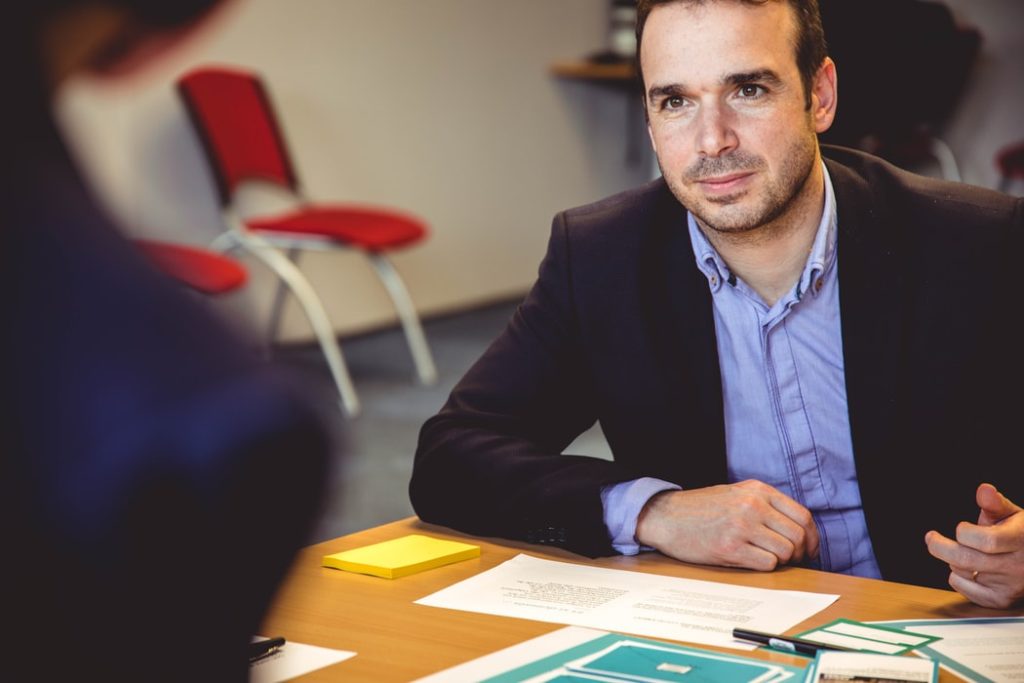 You've made it to the interview location and managed to smile, shake hands and find your seat across from the interviewer. This window is your opportunity to draw on everything you've prepared, so you can impress the hiring manager and show them why you're the right fit for the job.
If you worked with an IT recruitment agency, they'll ensure you've got everything you need to perform at your best during the interview.
Typical tech interview questions
"Tell me about yourself"

is the most common interview question across every industry, so be prepared for it as a conversation opener. This is your chance to establish rapport; not to list off every point in your CV. (Which is probably sitting in front of the interviewer.) Talk about what makes you unique, such as hobbies or stand-out achievements, but don't overshare and be aware of talking for too long.

Explain [type of technology] to me in simple, everyday terms

. The old saying that

if you can't explain something simply, you don't understand it well enough

, is true in the IT sector. The hiring manager wants to know you can also communicate with clients that don't have technical knowledge, so answer the question in a straight-forward way, avoiding jargon and acronyms.

Tell me about [specific project] you worked on.

The interviewer wants to know how you embrace new technologies and apply them in innovative ways to a project. Think of a relevant referenceable project that you can use as an example throughout the interview. Talk about the goals of the project, how your fresh skillset helped and present the results wherever possible. 
Going for a network engineer position? Check out our collection of network engineer interview questions and answers for a head start.
Be aware of your body language
Sitting up straight, offering a firm handshake and maintaining eye contact throughout a job interview all matters. And we've got the science to prove it.
Read our blog on the psychology of body language for interview tips that shape how you communicate non-verbally with tips to radiate all the right signals.

After the interview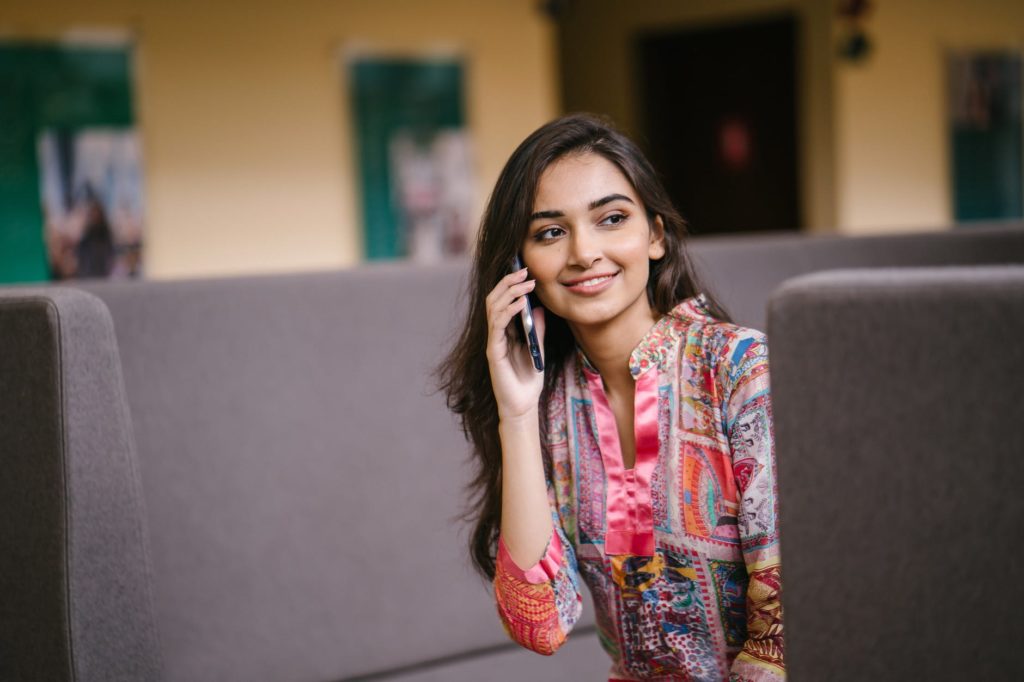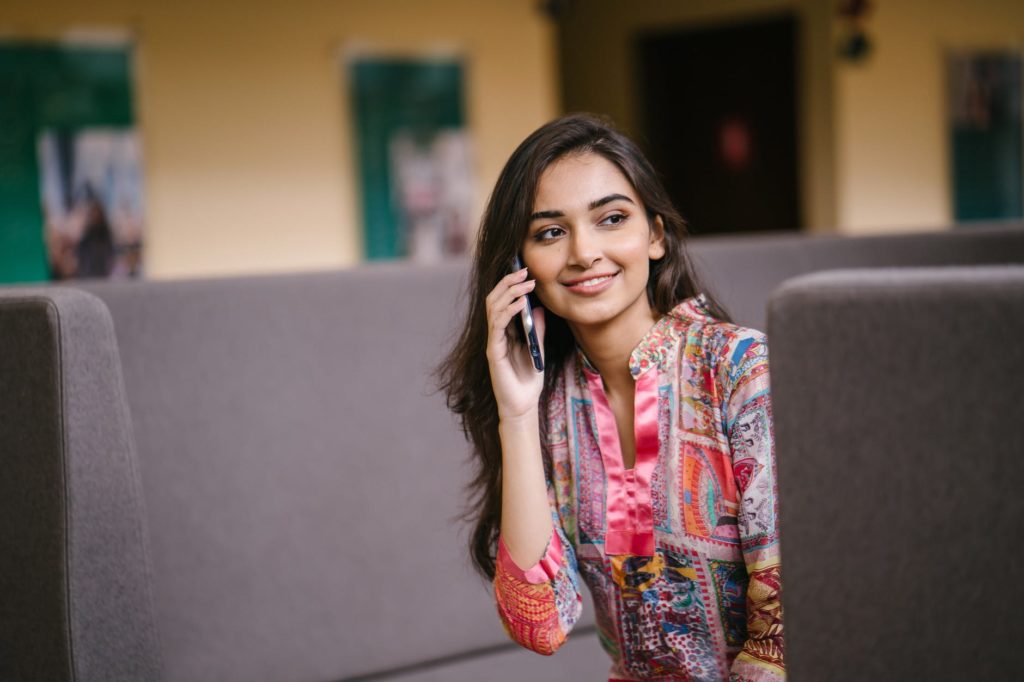 You might now think it's time to breathe and relax. That's kind of true, but not quite. The process is almost over – but there's still some important interview etiquette to get right. 
Ask some questions of your own
Almost every job interview ends with the candidate being temporarily put in the question master's seat. Pay close attention throughout the interview to identify genuine questions you'd like answers to. If you can't think of any, avoid passing this stage. The following questions are usually acceptable for most IT/tech interviews:
Are there any opportunities for training or progression in the role?

Where do you see the company heading in the next five years – and how does this role fit in?

Can you tell me more about the IT team I'd be working in?

What development processes do you use?

What sort of performance metrics do you use?

What do you like most about working here?
Finally, before leaving, if you like the sound of the job, let the interviewer know. Showing that you're keen is sometimes the icing on the cake to give you that winning edge over your competitors.
Follow up with your recruiter
If you didn't land the job interview by working with a specialist recruiter, consider sending a follow-up email to the hiring manager within 24 hours. This can be a simple thank-you message for their time and a reiteration of your interest in the position.
If you did work with a recruiter, they'll be curious to know how you feel the interview went. Give them a phone call afterwards. You'll appreciate the chance to talk about the details of the meeting with someone who knows the industry, and you can let them know you're still feeling enthusiastic about the role (if you are), so they can pass this onto the employer.

Let's ask Twitter…

Twitter is the spot where experts (and self-appointed) experts get together to share their tips and thoughts within a 280 character constraint. We've sifted through the 6000 tweets that are sent every SECOND to bring you some good interview tips for that next tech or IT job interview.
We especially liked these interview tips for a tweeter that had an upcoming interview for a "world leading tech company". Read through for some golden nuggets of advice from the online community.
Ask some smart questions at the end…

What keeps u awake at night work wise?

How important is this role in the company's future?

What do you think my biggest challenges will be if I'm lucky enough to get the job?

Don't ask about start dates or money!

— Andy Milburn (@AndrewGMilburn) November 4, 2019
They'll ask you what you do to keep informed of current tech trends. Mention magazine and online subscriptions and regular out of work hours spent reading up on subject. Come across as an enthusiastic nerd techie – but one with a good sense of humour. Best wishes!

— Tales from the Greenhills (@FromGreenhills) November 4, 2019
You've been called back for a reason! Be confident and most of all be yourself. Good eye contact and firm handshakes are good too. You can do this!! Good Luck!! YNWA!

— Alan Harrison (@AlanHarrison60) November 4, 2019
When referring to past work done at previous, never say 'we' always say 'I'. I did that once and was corrected by the interviewer, I still got the job though. Good luck

— Matt 🔴 (@MattHarrold) November 4, 2019
What NOT to do
While the way you conduct yourself in an IT job interview largely depends on your personality and the role itself, there are some things you should absolutely avoid when it comes to interview etiquette. 
Certain faux pas will make sure you stand out for all the wrong reasons, so avoid saying or doing any of the following:
Badmouthing your last employer.

Even if your last boss put you through hell and back every day, don't vent to the interviewer when they ask why you're looking for a new position.

You

might end up looking like the one that's difficult to work with and you could come across as a negative person.
Downplaying or emphasising your skills.

There's a fine line between confidence and cockiness, so just be honest when it comes to your skills. Trying to be too modest could make it look like you don't think you're good enough, but don't solely emphasise your technical know-how. That's important – but you're more than just a sum of your technical skills! A desirable candidate also possesses soft skills and can build rapport.
Using too many cliches and buzzwords.

We put out a Twitter survey, where 33% of respondents said they most hated the phrase "team player" and 33% chose "fast learner". It's fluffy terms like those that make it look like you don't really know what you're doing and don't have anything tangible to talk about.
Contact Dynamic for extra support
Our overall top tip…be yourself. Unless yourself is a quivering, nervous mess. In which case – be someone else until you feel yourself relaxing into the interview. 
The team of specialist IT recruiters at Dynamic Search Solutions understands what employers are looking for in the tech industries and we can become your dedicated partner, supporting you from your job search through to clinching that job offer.Send your CV to [email protected] or call 0208 629 6000 to speak to the team about finding your next role.