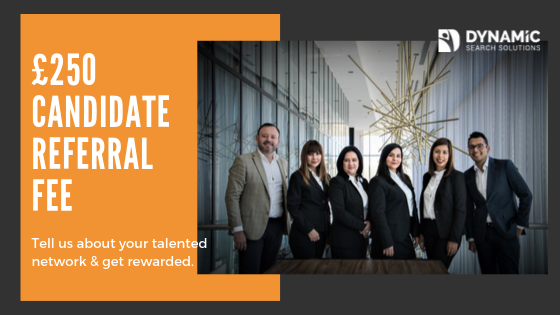 We're always on the lookout for exceptional candidates and we know that sometimes the most successful job placements come through recommendations.
We value the network you've built over the years, so we set up a recruitment agency referral scheme that rewards you and assists us in our IT talent search. Spotted an IT job on our website and have a friend, colleague or family member that could fit the bill?
Let us know and you could be eligible for a £250 recruitment agency referral fee.
What is a candidate referral scheme?
What does a "referral" mean and when does it apply?
At Dynamic Search Solutions, if you let us know about a friend, colleague or family member that you think may be suitable for one of our advertised roles – and we successfully place that person – we'll send you £250.
How does our candidate referral scheme work? (the details):
You spot a contract or permanent vacancy advertised by Dynamic and think you might know the perfect candidate. Even if you haven't seen a vacancy, you might know an IT professional and we can proactively look for a position for them.
You get permission from that candidate to pass their details on.
We contact your referral and determine if they're suitable for the role (or any other roles we're working on).
If we successfully place the candidate into a role (within 6 months of you submitting their details) and they remain in it for 3 months, you get paid!
How much do recruitment agencies pay for referrals?
Some recruitment agency referral schemes pay you in vouchers, or adjust the value based on the awarded salary. At Dynamic, we keep it simple. We'll pay £250 for every successful referral, following a 3-month period in the candidate's new role.
Tell us about a candidate!
If you know an IT professional that could be interested in a new role, email their contact details (and CV, if you have it) to [email protected] or fill out the form below.