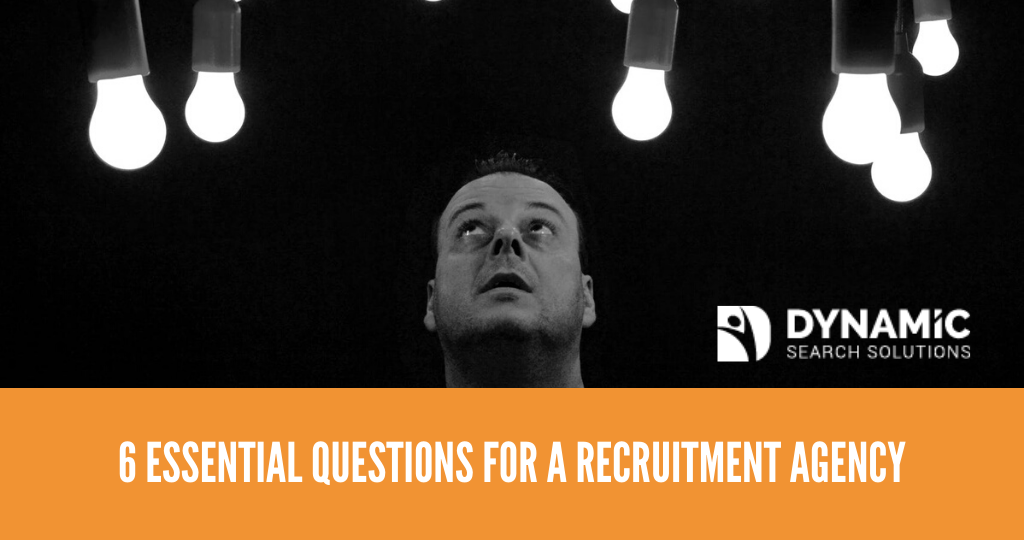 People hate recruitment agencies.
Business owners and hiring managers in the UK may be reluctant to work with a professional recruitment consultant because they've either;
Had a bad experience with one in the past, or

Heard a rumour that all recruiters are awful
If you're in charge of hiring at your company and you've been approached by a recruitment consultant, don't write them off straight away. There are countless benefits to working with a dedicated headhunter and sometimes all you need to foster a positive, long-term working relationship is peace-of-mind and confidence in your recruitment partner.
You can achieve that by knowing which questions to ask a recruitment agency. 
By properly understanding the recruitment process and selection process, you can get a better idea about whether a particular agency is right for your business. 
A good recruiter won't mind you bombarding them with questions before they begin the headhunting process; they know you want what's best for your business. Ask the following to find out how they can improve the way you hire.
1. Which industries do you specialise in?
Best hiring practices vary between industries and if you're considering working with a recruiter, it pays to ensure they're well-versed in your particular sector.
If you work in a technology-based company, you're going to want to work with a specialist IT headhunter that's plugged into the marketplace. A specialised recruiter should be a priority over a generalised agency every day. They have a pool of qualified candidates that are relevant to your business, as well as a solid grasp on the technicalities involved in such a role. That means they know which questions to ask jobseekers to determine if they could be the right candidate for your vacancy.
Another advantage of working with someone that specialises in your niche? They're more picky about their clients than contract houses are, and their lower volume allows them to provide a more personal experience.
Look out for recruitment consultants that claim to be a specialist. Most will say this, but can they reference it with real life? Does your agent talk about working with your competitors and do they know the same people you know? Looking out for this can help you separate the talker from the doer.
2. Do you have any testimonials I can see?
If an agency doesn't have any customer testimonials available, that's a red flag. Social proof from happy customers can provide you with assurance that businesses like yours have had a positive experience with this consultant.
Online customer testimonials influence 90% of people to make a purchase decision and the simple knowledge that businesses in your industry have had hiring success with a particular agency should help reassure you that you're making the right decision.
For an extra level of security, ask your agent if they can set up a call with one of their clients. An agency that's confident in their own services and abilities will be happy to do so, and the call can provide useful insights as to how your potential partner works.
3. How do you get paid?
Every business relationship has to discuss money at some point. Ask your recruitment consultant how their pay structure works – if they hesitate or avoid directly answering the question, feel free to hang up the phone!
Most agencies nowadays work on a contingency basis and won't expect you to pay a penny until they've successfully placed the candidate you want. The best thing about that is you know your dedicated headhunter is invested in closing that deal and will work until you're satisfied. 
Most agencies charge based on a percentage of the placed candidate's salary. Find out what the percentage is and avoid trying to negotiate on price! If you give every role to the cheapest bidder, how much time will you see invested from the recruiter? Will the level of service match the low price?
Remember that payments can work differently depending on whether you want to fill a permanent or contract position, so tell the headhunter exactly what you need.
4. What screening and selection process do you use?
It's important that you work with someone that applies the optimum methods to find you the best quality candidates. The screening process exists to ensure candidates have the necessary qualifications, visas and eligibility to work at your company, while the selection process is all about how they conduct interviews to determine which jobseekers to pass forward to you.
By chatting to a professional recruitment agency in detail about your available vacancies and goals, they can align their selection process with that. Feel free to tell them your deadline and expectations, so you can be confident they'll be able to meet them.
Let them talk you through the standard process for your industry. If it's too long, you run the risk of missing out on talent to your competitors. Too short and you might struggle to engage the candidate fully. A professional recruiter will be able to advise you.
5. How many consultants will work on my vacancy?
Find out more about the structure of the hiring process within the agency. You want to be confident they're putting the best people on the job and investing time into finding the right candidate. At the same time, find out who your point-of-contact will be when you need to get in touch with the agency. It's important that you're reassured your POC will be available when you need them and that if more than one person is working on the role, the process will be streamlined and cohesive.
Tip: If you've been considering contacting more than one recruitment agency to see who can fill the role fastest, we recommend you don't. It's best to choose just one who can properly pitch the job – otherwise the best candidates could be approached multiple times and will be put off from applying. If you've already got a preferred supplier list, consider working with a specialised headhunter in conjunction. You've got nothing to lose since you don't pay unless they find you the best candidate!
6. What happens if the candidate quits?
Recruitment agencies have no obligation to provide a refund if the candidate quits. However, some will offer a rebate if they decide to quit within a specified time period. Refunds vary between agencies, but it's important to find out how your preferred agency will handle a situation such as that one. 
Ask Dynamic
We're a friendly bunch at Dynamic Search Solutions and would be happy to answer any questions for a recruitment agency you have, so you can feel more confident in entrusting your hiring process to us.
Give us a call on 0208 629 6000 and we'd be happy to talk you through our process. Want to go ahead and start hiring an IT professional? Just submit a vacancy and we'll be in touch. 
Like our weekly Dynamic blogs? You're in good company! We were listed in the Top 50 IT Blogs by Feedspot. Go and check them out!