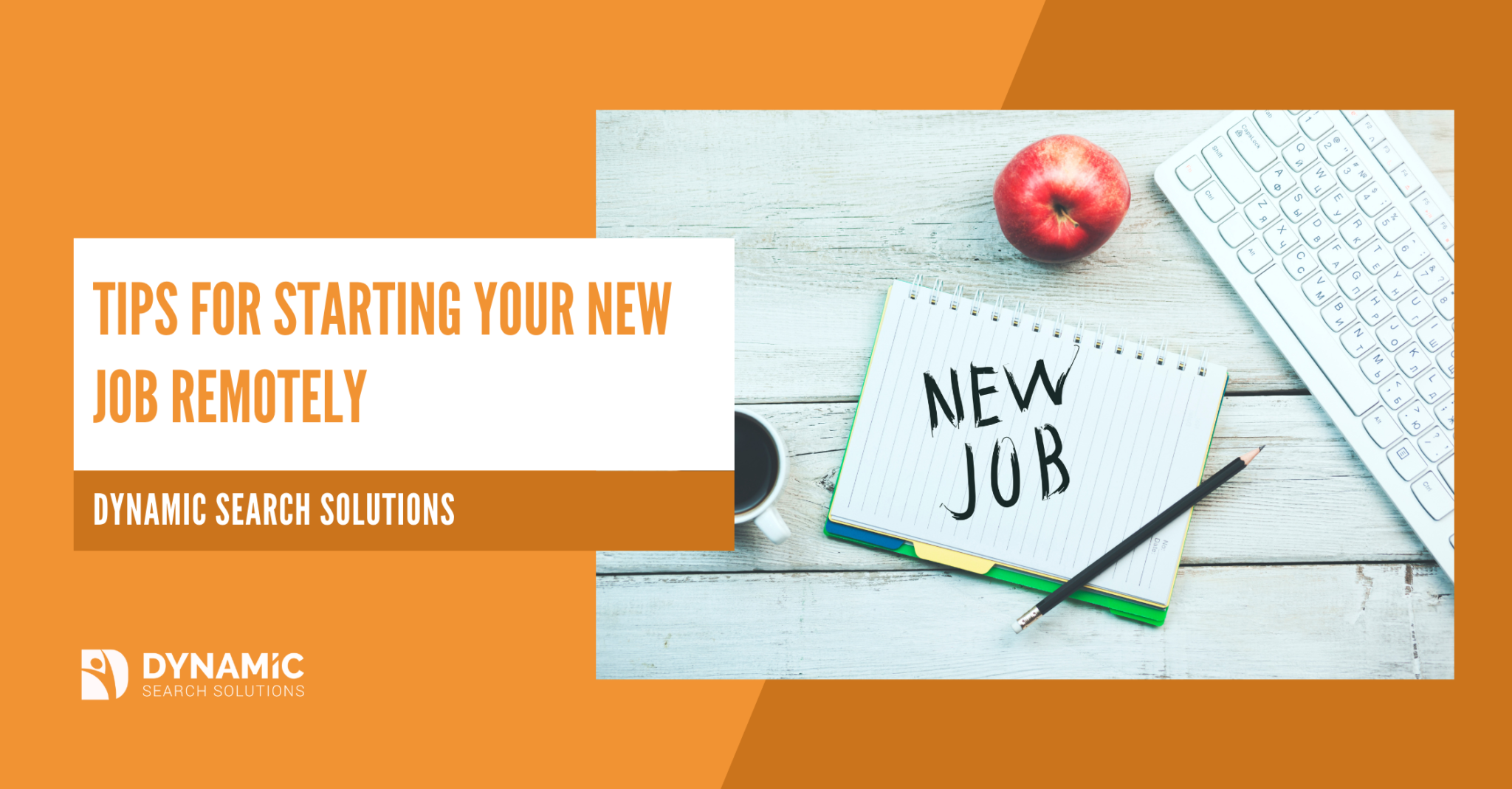 If you've recently accepted a new job offer, the likelihood is that you will be starting your new job remotely. It's important to understand that the onboarding process is going to be a little bit different from the usual process if you were in the office.
STARTING A NEW JOB REMOTELY VS THE OFFICE
Starting your new job remotely rather than in the office can leave you feeling quite anxious, as it means you will not be meeting your new colleagues in person. It also means you have to adjust to new technologies and new ways of working without having colleagues around to support you.
Starting a new role remotely can also make it difficult to get an understanding of the company culture, as it is hard to get an understanding of this without physically being in the office with your colleagues.
To help you with this unusual process, here are some simple tips to help you start your new role as smoothly as possible, so you can make a great first impression.
MEET THE TEAM
It's important to build a relationship with your manager and colleagues from day one when you're working remotely. In an office, you are constantly around your colleagues so you can build relationships with casual chats now and again. When working remotely, you need to intentionally contact your colleagues to build a relationship due to the lack of in-person interaction.
Consider sending an introduction email to everyone in the team, and let your colleagues know that you'd like to schedule a quick call in to get to know them better.
ASK QUESTIONS
If you're in doubt, ask questions. Rather than wasting time trying to figure something out, ask someone for help. The majority of people have been thrown in the deep end with remote working, so the chances are that someone else had a similar question when they started. There's no harm in asking questions, if anything it will help you to build relationships with your colleagues.
In fact, asking questions might actually make you look better in your manager's eyes. It shows that you're engaging with your new role and you're keen to develop.
FIND YOUR GO-TO PERSON
When you're in an office, your go-to person would usually be someone who works nearby. When you're fully remote working, your go-to person should be someone who you will be working closely with in your team.
When you first meet this person, make sure you ask them if you can reach out if you have any questions, and establish the most efficient way to get in touch. Whether that is through email, text, phone call, or Microsoft teams, be flexible with how you communicate and remember they're helping you so it's best to accommodate.
HOW DOES THE TEAM COMMUNICATE?
It's important that you find out how the team communicates to make sure your first few weeks will go as smoothly as possible. It's important that you know how the information will be sent out, what is expected for conference calls, and if email, text, Microsoft Teams, or slack is used for simple communication.
Pay attention to how your team communicates. What tone is used in emails from managers and colleagues? The same goes with Microsoft Teams or on slack, how formal are the conversations? Most of these questions can be answered by observing the way people communicate with each other.
SET UP YOUR WORKSPACE
Is this your first-time remote working? If so, make sure you get your workspace set up from day one so you're ready to go. It can be tempting to go straight for the couch, but that is going to have a negative impact on your productivity.
Try to find a desk with a comfortable chair, as well as any tech you need. If your company is providing you with a laptop or any other work accessories, make sure you collect and set them up in advance. This way you don't have to worry about any technical issues on your first day, and solely focus on the onboarding process.
YOU CAN STILL SUCCEED, EVEN THOUGH YOU'RE REMOTE WORKING
We hope these tips have reassured you and helped you to understand how it is possible to have a successful start to your new job, even if you are remote working. The most important piece of advice to remember is to carry on being your normal self, that is what got you the job in the first place, and that shouldn't change even in this unfamiliar time.