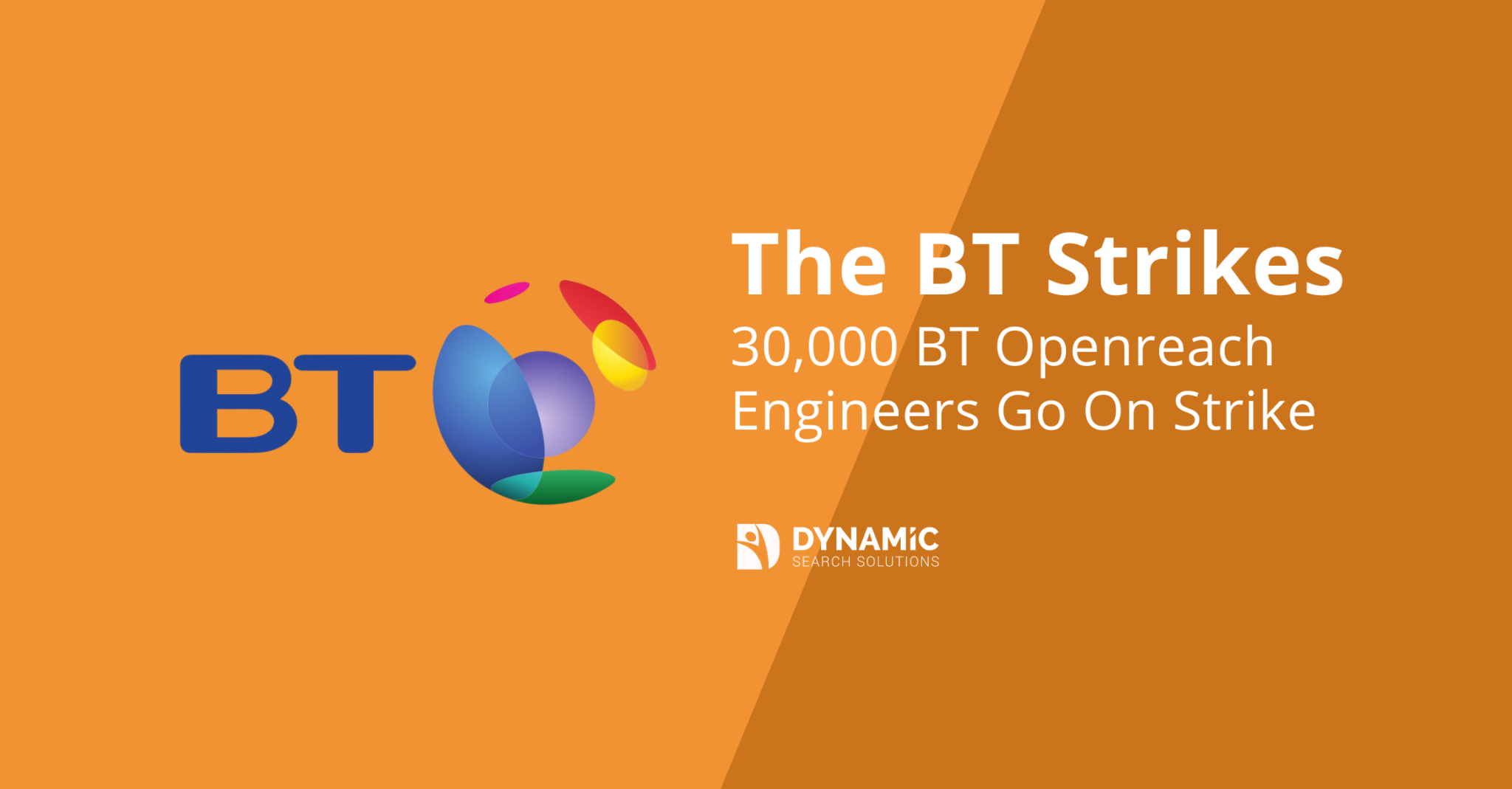 The rising cost-of-living crisis and ever-increasing inflation is effecting everyone. It's this inflation that has led to over 40,000 BT workers and members of the Communication Workers Union (CWU) to take part in ongoing strikes over pay disputes with BT.
These are the first strikes BT have experienced in 35 years. However the strikes have received overwhelming support from CWU members. 95.8% of BT Openreach Engineers voted in favour of taking strike action.
Why Are BT Openreach Engineers Going on Strike?
According to the CWU, BT offered a £1,500 pay rise for all its workers across the business. However, when inflation is predicted to reach as high as 15% by January of next year, this £1,500 pay rise becomes a considerable real world pay cut.
CWU General Secretary, Dave Ward argues that the massive efforts over the past few years of BT workers to see the UK through the pandemic and the shift to working-from-home has been largely unrewarded and ignored by BT senior management.
"Without CWU members in BT Group, there would have been no home-working revolution, and vital technical infrastructure may have malfunctioned or been broken when our country most needed it. Our members worked under great difficulty – and got a real-terms pay cut as a reward."
What These Strikes Mean For BT
Which makes it even more shocking that, according to the CWU, BT have completely ignored the unions attempts at negotiation. CWU Deputy General Secretary, Andy Kerr, says the union has been open with BT about their desire to negotiate and find a resolution:
"Instead, our attempts to meet and improve this situation were declined by senior management who clearly have no time for the people who make them their massive profits and this disrespect has led to the first strike at BT Group in nearly four decades."
All of this comes after a year in which BT saw £1.3 billion in profits, for which CEO, Philip Jansen, earned a 32% pay increase of £3.5 million. A far cry from the offered pay increase of £1,500, which equates to a 5% average increase for BT workers.
Earlier this year the British government unveiled its £5 billion Project Gigabit, its commitment to pushing the expansion of the fibre network to areas of the UK which lack fibre broadband. IT businesses like BT and Virgin are trying to win as many contracts as possible. And with massive contracts on the line, having 30,000 of your Network Field Engineers on strike can turn into a huge problem for BT. Instability within the team may hinder them winning future contracts with questions being called about their ability to fulfil these contracts. And if a settlement isn't reached soon, ongoing strikes may lead to BT unable to meet deadlines for existing contracts.
"That's why they're on strike. It's the hard work of these network field engineers that is winning all the work, but they aren't seeing the reward for any of it! They're just getting more work."
Mark Humphreys, Managing Consultant, Dynamic Search Solutions
What Are The Options For BT Engineers On Strike?
What these strikes create however, is a massive opportunity for IT businesses in the UK. Because 30,000 of these 40,000 BT workers currently striking are BT Openreach Engineers.
The UK tech job market is becoming increasingly competitive and certified IT professionals are in more demand than ever. IT companies are having to offer bigger salaries to attract the best talent. Which makes it even more shocking that one of the UKs biggest and most profitable IT business, seems completely unwilling to even negotiate with its skilled and in demand workers.
But going on strike isn't the only option available to BT Engineers. BCS's State of The Nation Report aligns with what we've found with our clients here at Dynamic; there is more demand than ever for IT Professionals. The amount of open job vacancies in the IT industry is higher than it's ever been, and higher than the average across all business sectors.
Source: BCS, State of the Nation Report 2022
Meanwhile, 54% of IT decision-makers were unable to fill at least one position, with 38% having three or more they couldn't fill. Showing that while there are record amount of job vacancies in the IT industry, there aren't enough skilled and certified IT professionals to fill them. This gives job seekers and IT professionals more choice of where to work.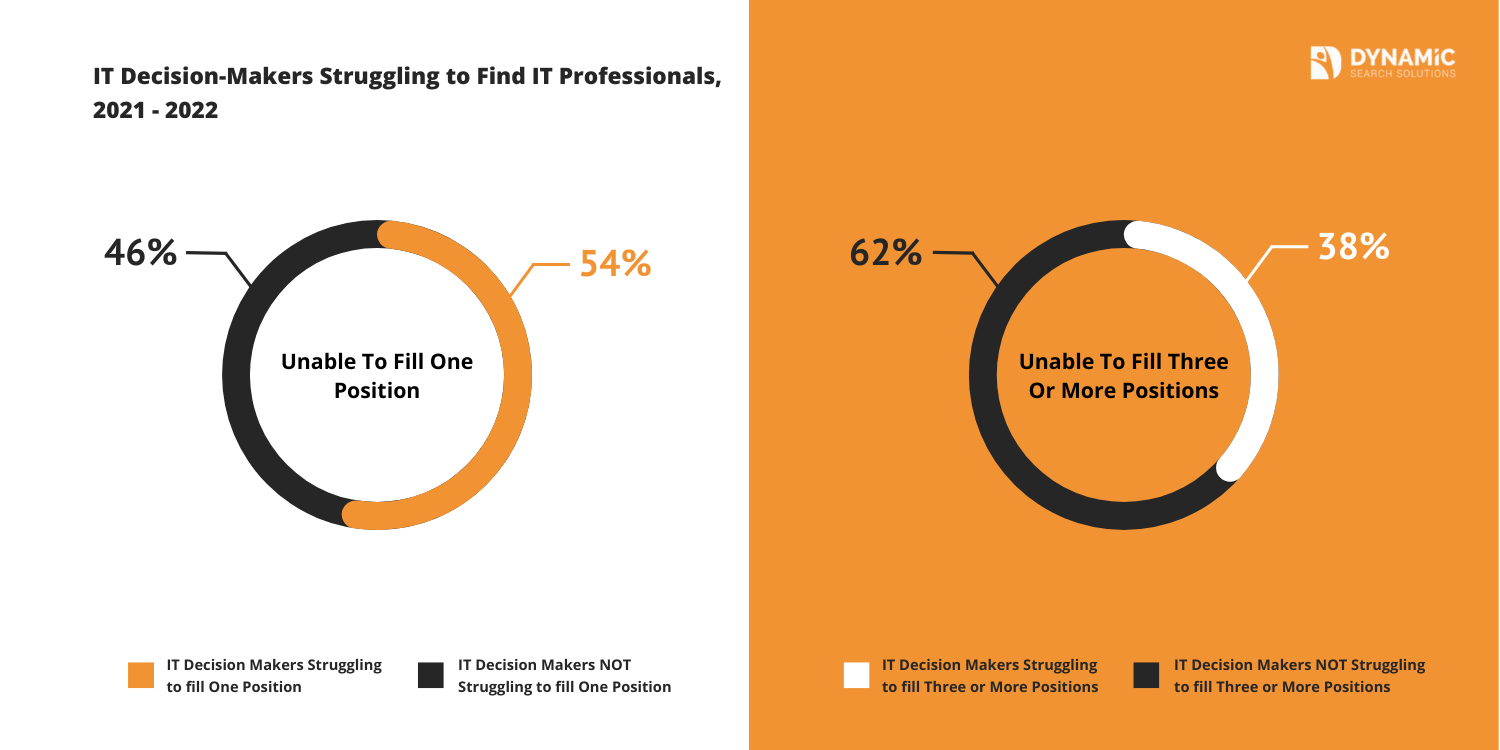 Source: Global Knowledge, IT Skills and Salary Report 2021
If BT doesn't meet workers' demands, they run the risk of losing employees to businesses that will. Field Network Engineers with experience working on fibre networks are in high demand, in an already competitive job market.
Even if you're not a BT Engineer and not on strike, it's well worth your time taking a look at our open roles here, to make sure you're being compensated fairly for your work. Or you can reach out and contact us here, for a confidential conversation about your career.
As we're sure many IT businesses will, we'll be keeping a keen eye on the situation at BT as it develops.