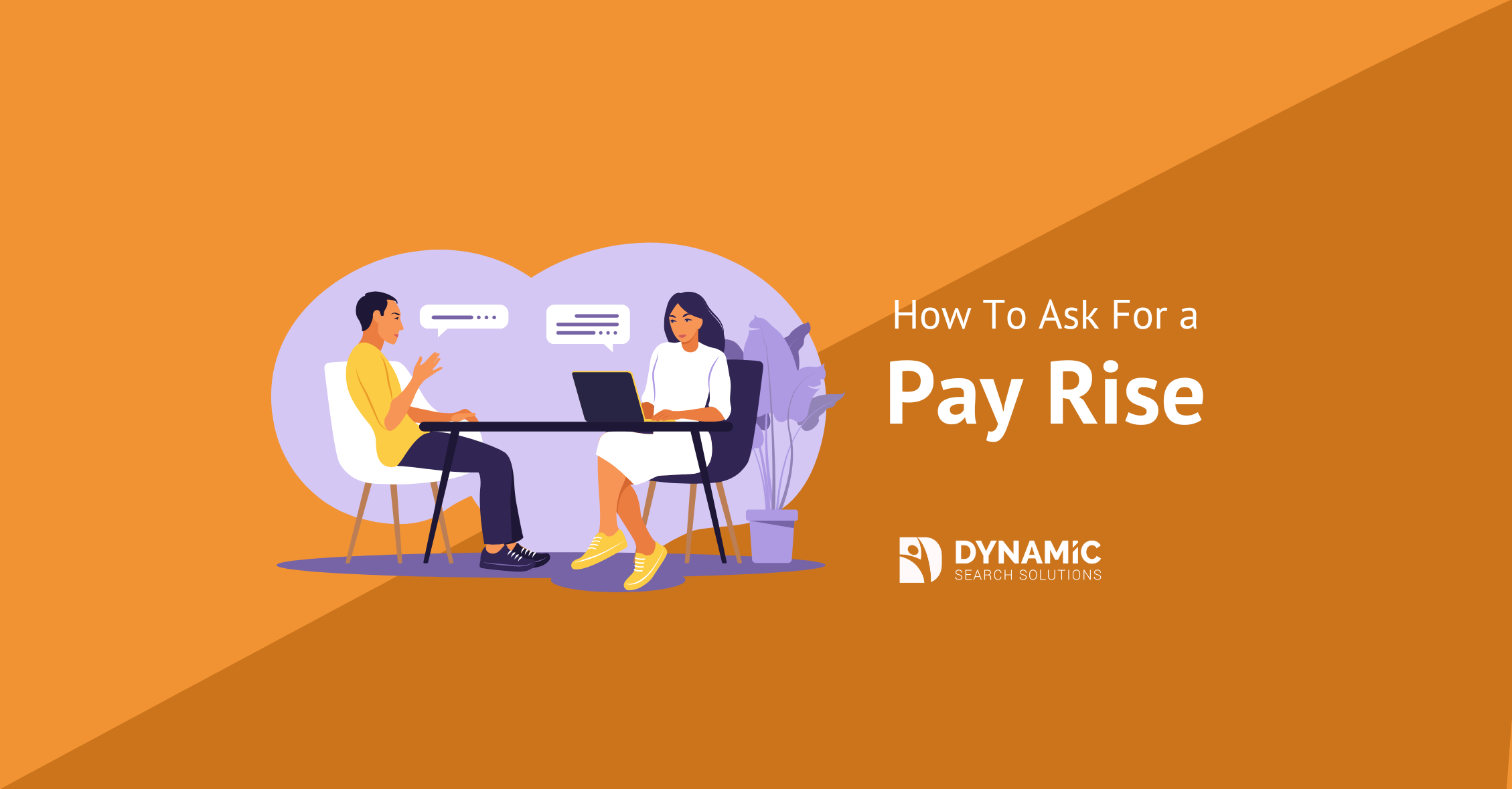 How to ask for a pay rise seems simple like a simple question with a simple answer. You just go up to your manager and ask, right? While that is an option, there are things you can do and say to give yourself the best chance of receiving the pay rise.
Here in the UK, inflation is outstripping the majority of standard salary increases. Combined with the rising cost-of-living, knowing how to ask for a pay rise has never been more essential.
But there is good news. There IT industry is currently facing a large skills gap caused by the pandemic, and there are more jobs than IT professionals to fill them. This means companies are having to pay more to attract skilled IT professionals. In retaliation, managers are having to pay more to keep their best talent. So it's never been a better time to ask for a pay rise.
How To Ask For a Pay Rise in 8 Steps
1. Factors For Your Market Worth
The first step to negotiating a pay rise is being aware of the different factors that affect your individual market worth.
Firstly you can check the average salary and salary range of people in the same job as you using salary checkers like Payscale, Glassdoor, Indeed etc. 
It's also well worth your time to look at some real world job adverts that are similar to yours. Having examples of these at hand are great ways to argue that you deserve to be more fairly compensated for your work. 
But job salary aggregate websites only take into account limited factors, and job adverts for even the same roles can differ massively. These are some of the factors you should take into account when trying to gauge your market worth:
Location

– Location can be a huge determiner of how much you are paid: Even for remote workers, where you live can have a huge impact on your salary.

Experience

– Years of experience and the knowledge and expertise associated with them, are one of the biggest determining factors in your salary. And your salary should be adjusted accordingly as your tenure with the business lengthens.

Certifications

– The certifications you have (or even if you had but they have expired) are indicators to employers of your skills and knowledge.

Earning new certifications leads to an average salary increase of £10,000

for IT professionals; so if you have earned new and higher certifications this gives you a strong case to argue for a pay rise.

Your Industry – The current state of the industry you work in can have one of the biggest impacts on your earning potential. For example there is a huge skills gap in the IT industry, meaning skilled IT professionals have never been more in demand, or been worth more.
2. Why You Deserve a Pay Rise
If you're being paid under the market value for your work and can then prove that, it should be easy to argue for your pay increase. But if you aren't being underpaid, then it's time to tailor your case to your individual situation to demonstrate why you're worth the pay rise.
Factors for you to consider in your argument are:
Tenure at the company

– The longer you have been at a business, the more value you have. This could be due to having a better understanding of the processes, the clients they work with, the technology they use etc.

Projects you've worked on

– The projects you've worked on or the clients you've worked with are direct representations of your value to the business. Being able to provide concrete examples of how much you have earned for the business and help the business reputation, are great ways to demonstrate your worth.

Your role in the business

– How niche your role is or how important it is to the ongoing operations of the business are powerful tools to leverage in asking for a pay rise. Being niche makes you hard to replace, and hard to replace quickly.

Being good at what you do – If you're the best in the business, that gives you more bargaining power. If you're working on a service desk and you're the most efficient at dealing with tickets, that's absolutely something worth mentioning.
By combining your market research with the factors specific to you and your business situations, you can build a case for why you deserve your pay rise.
3. When Should You Ask For a Pay Rise?
When you ask for your pay rise can be as important as how you ask, and there are lots of things to take into consideration. So here are some times where it is great to ask, and times you should avoid:
Times to ask for a pay rise
Your performance review

– A great time to ask for a pay rise is your performance review, where ideally, your manager/ employer will be finished talking through why you're doing such a good job. However these can be few and far between. So if it's in 4 months time? Don't waste time waiting, prepare yourself and ask for a meeting with your manager long before then.

At the end of a project

– Perhaps the best time to ask is when you've just completed a project. These can be even less common than performance reviews, but your manager will be less stressed after the successful completion of a campaign or project. You will also have demonstrated your worth to the business.

End of a financial/ calendar year – At the end of a financial year, the business will be reviewing the budget for the upcoming year. This means that funds are or can be made available, when perhaps they wouldn't be at other times.
Times to Avoid
Stressful periods

– Busy times of the year, just before project deadlines, before big meetings or presentations. Your manager being busy or stressed, means your proposal for a pay rise is less likely to be and may be outright rejected in frustration at being asked at a poor time.

Ambushing your manager

– Book a meeting with your manager for an uninterrupted discussion. You need the time to ask for the pay rise, lay out the reasons you deserve it and negotiate where necessary.

Selling yourself short – For some of us, it's hard to sell yourself. To be able to give the reasons why you deserve to be paid more than your peers, it can come off as bragging. But if you aren't confident in your request and subsequent negotiation, your manager will use that to your disadvantage.
4. How To Ask For a Pay Rise
To give you the best chance of your request being accepted, it's important you ask at the right time.
Open the conversation with why you deserve it

– This is where the information you collected and research you did will first be used. You should start the conversation by laying out the reasons you deserve the pay rise. You may mention the reason for the meeting before you begin making your case, but it's no necessity: Your manager will understand what is happening.

Be confident

– All of the reasons you have collected for why you deserve your pay rise will also help make you confident in your request. And your manager will be able to see your confidence in how you present yourself. While this may seem small, it can factor into your manager's decision.

Be presentable

– If you're trying to present a case of not just asking for a pay rise, but why you deserve one, then you need to look the part. So make sure you're looking your best. Putting in the effort on your appearance also shows that you respect and appreciate your manager's time.

Manage your expectations – The research you undertook will also ideally give you a salary range that you can ask for. But it's important to manage your expectations when you ask for a pay rise. If you know the business is struggling, it may be ambitious or ridiculous to ask for the top or above the salary range you discovered.
5. What To Expect After You've Asked For a Pay Rise
Preparing yourself for what may come in your meeting will make you more confident to negotiate and in your request.
Don't expect to get everything you ask for –

It's important to remember that this is a negotiation, and it's your manager's job to pay you only what ne needs to to keep you. So when you've decided on how much of a pay rise you're asking for, you should consider if there is a a lower amount that you would still accept. Or consider asking for more than you think you'll get, so the any counter offer you receive may be closer to your desired salary.

Don't expect an immediate answer

– First thing to prepare yourself for is a wait. Your manager may need time to think about your request, or they may have to take this request to their manager for approval. So don't worry if you're left without an answer.

But keep working at your best – While you wait for an answer, it's important that you maintain the high quality of your work. Your manager will be paying more attention to your work than ever so you want to show why you deserve the pay rise.
6. The Counter Offers
A pay rise may simply not be in the budget for your company. And depending on the reasons you give for why you want a pay rise, your manager may counter with offers to address your reasons. Alternative options to a pay rise could look like:
Certifications –

Some employers may offer support for training or personal development, which can be worth more in the long run than a pay increase. IT professionals who earn new certifications on average see a salary increase of almost £10,000, become more valuable to current and future employers, and have the opportunity to gain experience with new technology.

Work on new exciting projects or clients

– You may be offered the opportunity to work on new projects or clients. If you're not being fairly compensated for your work this could be an attractive alternative to a pay increase.

Company benefits

– Your company may offer you increased benefits, financial or otherwise. These could include, flexible and home working, a company car, increased holiday allowance, a performance based bonus… 

Hybrid or Remote Working

– If you deserve a pay rise because you're being overworked, then you might expect to receive a counter offer of hybrid working options. Working from home can save you thousands a year, and so while not a strict pay rise, you would save more money overall. 

Better Work-Life Balance – In the same vein, if you're working more than you're being paid for, you may be offered a reduced workload or greater support in your role.
Instead of being put on the spot, it's worth taking the time to prepare yourself to negotiate with your manager. Consider if there is any other compensation, financial or not, that you would accept in place of a straight pay rise.
7. After You Ask For a Pay Rise
Your manager may well realise the reason for the meeting and have a counter offer ready or already been prepared to consider your proposal. But it's likely that you'll have to wait for an answer. 
While your manager will hear your request, if you're working at a large organisation it's likely that the decision may not even be up to them. These decisions often have to go through numerous levels of arbitration. 
While you're waiting to hear back about your decision, your work will be under greater scrutiny than ever. So you should strive to keep providing the amazing level of service you always do. 
8. What To Do If You Don't Get a Pay Rise
If your pay rise does get denied, then it's not over yet, so don't despair. This is where the negotiation begins.
Obviously, you went into this with the aim to receive the pay rise you deserve. But if they are unwilling or unable to offer you a pay rise, what can they offer you? As we discussed earlier, there are numerous benefits you could alternatively receive. Certifications can be more lucrative in the long term than a strict pay rise, while better working conditions can make your job more enjoyable instead.
But if you'll only take a pay rise and nothing less, then it's time to start exploring your options.
The best place to start is reaching out to one of our Dynamic recruitment consultants for a confidential chat. As experts in IT recruitment, they can give careers advice about what roles are available, the current state of the job market in your industry, and what you can expect to be paid moving into a new role.