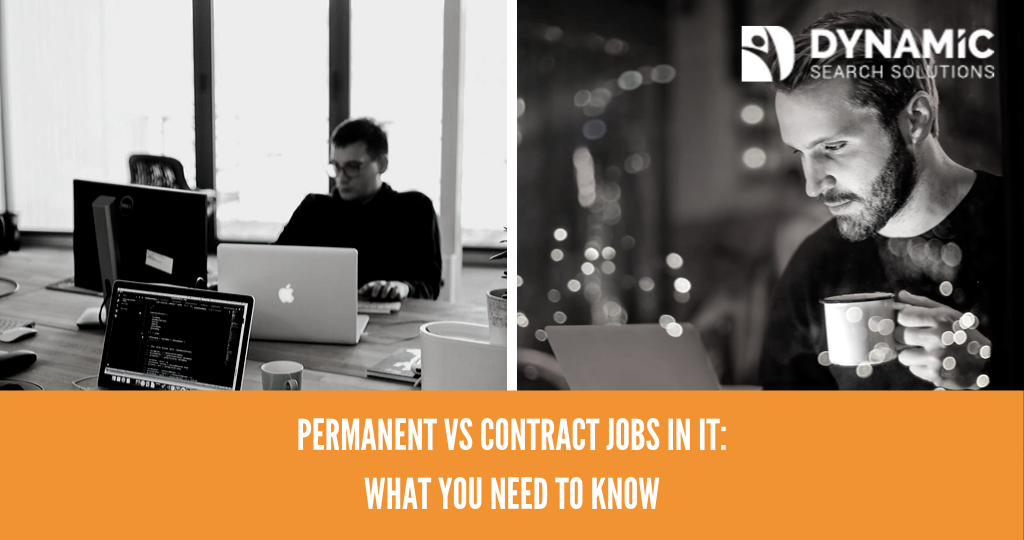 Often viewed as the holy grail of jobs, becoming an IT contractor could be a tempting career move. With high earning potential and the freedom that comes with being your own boss (working on your own terms) it's no wonder the number of freelancers in the UK hit 2 million last year – and continues to grow. 
So, if you're trying to toss up whether contract or permanent employment is best for you, we've put together this quick guide to help you out. What works for one person might not work for another, but when you consider things like lifestyle preferences, motivators and salary expectations, choosing between a contract and permanent role should become clear.
Contract vs permanent: salary expectations
Wondering which pathway will be more lucrative for you? Use a simple contract rate vs permanent salary calculator to help you compare how an hourly rate would stack up against a full-time job over the year.
You might have heard the rumour that IT contract work has a higher earning potential than a permanent role, and while this is often true, it's not a given. While a freelancer might have a better hourly rate when their pay is broken down, there are other things to take into account. Think about those weeks where you haven't secured a full 40 hours of work; will the higher rate of pay make up for the hours missed?
On the other hand, do you love the idea of working less hours for roughly the same salary?
As a contractor, you'll probably have to take care of paying tax yourself, so take this into account when you're counting the pounds and be sure to account for it when providing a quote to clients.
Flexibility and work-life balance
More people are turning their backs on a rigid work schedule and the old "working 9 to 5" tune is starting to die. If flexibility is important to you – maybe you have a family to look after, maybe you're studying part-time or maybe you just like to take a yoga class at 10 A.M. every day – then being your own boss is something you should consider.
Unless you've found an employer that is happy for you to set your own hours, you might begrudge getting into the office at the same time every day, on a permanent basis. 
As a contractor, you'll get a kind of freedom that few permanent IT jobs can offer. You might also get to enjoy more variation in the work you do, with the opportunity to progress your tech skills in different areas. However, if you've found yourself a permanent job with good prospects and a culture you can get on-board with, it might be worth sticking around.
Job security
Becoming a permanent employee in the IT sector brings with it a level of job security and support that being a contractor couldn't offer. A salary, pension scheme and private healthcare are just some elements of job security you may be able to rely on.
As a contractor, you need to be confident that you'll survive financially during dry periods. Will you be able to cope if no work comes through for a couple of weeks – or does the thought alone stress you out? If so, consider a permanent role where you can count on a monthly salary and you know how much money you can expect to flow into your bank account.
When you work on a freelance basis, things like your skills, reputation, timing and the state of the economy can make it difficult to secure your next contract. 
Career progression and training
When you're deciding between going contract or permanent, which would be best for training and skills development? Well, it entirely depends on the company you work with and how much you're willing to invest in your own skillset.
Some businesses are happy to invest in the training of their employees. It can strengthen the business itself and improve employee retention rate. If you work for yourself, the cost of any training course you attend falls on you – and they rarely come cheaply. 
However, you might find you're able to build skills quickly by simply taking on a variety of contract work. You get to accept or decline work depending on what you feel will suit your skills and goals, and by taking on consecutive projects of, say 3-6 month periods, you're fast-tracking your skills development and learning as you earn (while hopefully getting some big-name contracts on your CV).
Company perks
Comparing the perks of contract vs permanent positions completely depends on the company that employs you.
Standard perks of permanent employment such as holiday pay and sick pay don't exist when you're your own boss. You'll have to prepare for such eventualities and ensure you've got enough savings to keep you going. Although, if you're taking a holiday and have some spare time, the beauty of freelancing means you could grab your laptop at the beach and tick off some jobs while you're there.
If you prefer to switch off when you're on holiday, you'll have to plan your trips in between jobs and consider the fact that you won't have any money coming in for a set period of time.
Contract or permanent: which is best overall?
You should have a better idea about whether contract or permanent employment is best for you, by weighing up the pros and cons of each. If job security is more important than flexibility, a long term permanent role might be best for you. On the other hand, if you care more about variation than you do about company perks, go freelance.
Whatever type of job you want, Dynamic Search Solutions can help you in the hunt. We match candidates with their ideal role in permanent and contract IT roles, becoming your supportive partner throughout the entire process. Send your CV and let us know what you're looking for, or give us a call on 0208 629 6000 to speak to a specialist IT recruiter.